Video Transcript: Good Vibrations: How Sound and Light Therapy Can Heal
Charlene Bollinger: Sound and light are all around us but did you know that they have the potential to improve your quality of life?
Ty Bollinger: That's right. Join Dr. Tony Jimenez for a presentation on how good vibrations can actually heal you emotionally and physically.
Dr. Tony Jimenez: Like the plant kingdom, we also receive life force energy from the sun and naturally align ourselves with the electromagnetic pulses of the Earth. Let's listen to the sound that the sun makes.
[Audio clip]
This is the sound that the sun makes. Maybe you could even hear a heartbeat in there. This is healing. This is healing. Every organ, cell, and atom in our body generates electromagnetic fields that vibrate at a specific light, color, and sound frequency.
We all hear and feel the vibration of sound. Sound affects us emotionally. Any of you here—when you were told you had cancer, how did that resonate? Maybe it was painful, maybe you were sad, maybe you saw yourself in a coffin.
A funny story, we had a patient at the clinic in Tijuana, Mexico, that came to us from the Midwest. And she said, "You know Dr. Tony, "Five months ago I was told that I had six months to live. So, I have a month left." And I said "Wow, we need to change that for us to have an opportunity to have that successful outcome."
And she told me she hadn't bought anything for herself. And for a lady not to shop in five months, you know that something is wrong. So, a few days later, I worked with her on the emotional—and changing that paradigm of thinking. A few days later I saw that she had a necklace that I hadn't seen before. So, I asked the driver, Jesus is his name, we don't say Jesus because Jesus picks you up from the airport in San Diego. And so, I asked Jesus if he took this patient to a mall for shopping.
He says "Yes, I took her to the mall a few miles from the clinic."
"And Jesus, where did she go? What store did she shop in?"
"She shopped at a jewelry store."
At that moment, I said "I got this." So, I called the patient into my office, and true, she had bought that necklace. So, now we had shifted that mindset. And to this day, this patient, who had from a conventional point of view a short possibility of recovery, is still alive and doing well. So, take yourself back, when you were told that you had cancer. Where were you? What did you feel? How did you hear that sound, that vibration, that resonance? And start shifting that.
[Video clip of fluorescent light]
Alright. Can we stop that? Yes, we'll stop that. So, that's a chaotic vibration, and this is what, unfortunately, we're receiving now. We have light noise detectors that allow us to look at harmonic versus chaotic energy and sound/noise. And so, we need to distance ourselves from this. And this is what happens in the brain when you hear that "C word," when you hear that you have a prognosis.
This is what happens in the brain when we're thinking negative thoughts. "Yeah, the doctor must be right, because he's from all these institutions and he has all these titles on the wall." So, these sounds are the ones that we have to change.
So, quality of life. If we live a day longer, if we live 50 years longer, we want to live the best quality of life possible. Do we agree with that?
Audience: Yes.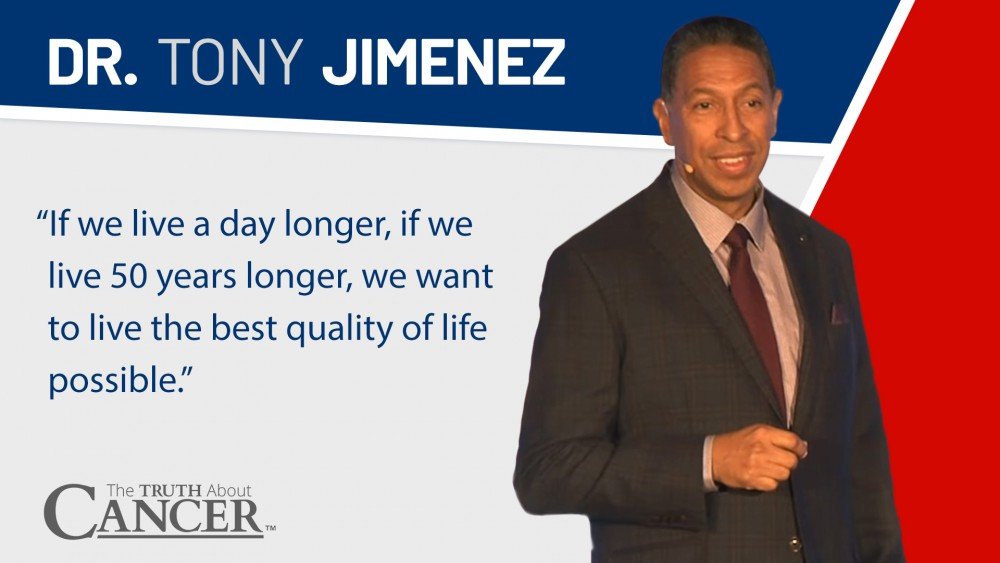 Right, we agree with that. And in conventional therapy, most cancer patients succumb not to the cancer, but to the side effects of chemotherapy and radiation. This survey, it's called a scientific validated instrument called the FACT-G survey, we did with 225 patients, randomly, at Hope4Cancer, 225 patients. 76%, so that's about 171 patients, were in Stage 4. That means they failed conventional therapy, chemo, radiation, surgery, immunotherapy, hormone blockers, all that. And in the three weeks that they were at the clinic, they had a 78% improvement in their functional status, 82% in the emotional. That's huge.
Charlene Bollinger: Isn't Dr. Tony amazing? And the way that sound and light affect your health is truly remarkable. I hope you learned from this video
Ty Bollinger: And if you did, please share it on social media and let your friends and your family know about The Truth About Cancer. Thank you and God bless.
If you liked this video, you'll LOVE this.