Editor's Note: This article first appeared in the May 2016 edition of TTAC's Insiders member newsletter, and was co-written with Dr. Subrata Chakravarty.
Sono-Photo Dynamic Therapy (SPDT) is a safe, effective, and proven therapy for treating cancer using sound and light. It is a combination of two individual therapies: Photo Dynamic Therapy (PDT) and Sono Dynamic Therapy (SDT).
The foundations of these healing methods can be found in ancient history, dating back as far as 3,000 BC. However, it was just about a hundred years ago that PDT started evolving as a science-based method of treating a variety of diseases, including cancer.
PDT and SDT work by leveraging the transfer of energy from light and sound sources that transform photo and sono-sensitive compounds, known as "sensitizers." Energy from these sensitizers is released in the form of reactive oxygen species (ROS) that destroy the affected cells.
The ability of specific sensitizer compounds to accumulate in transformed (cancer) cells is a convenient method to selectively destroy those cells by systematically treating them with appropriate light and sound sources, without affecting healthy cells.
A Historical Perspective
In ancient Greek, Egyptian, and Indian civilizations, sunshine was considered a curative approach for many diseases. For instance, ancient healers knew how to combine a variety of healthful herbs such as parsnip, parsley, and Saint John's Wort for the treatment of lesions while simultaneously exposing them to the sun. In the second century BC, Hippocrates, the Father of Medicine, called this type of treatment "heliotherapy" – later to be known as "phototherapy."
In the late 19th and 20th centuries, healers revisited the concept of phototherapy. It became clear that sunshine works in concert with endogenous substances (those found naturally in the body) that absorb its energy to cause specific, beneficial biochemical reactions.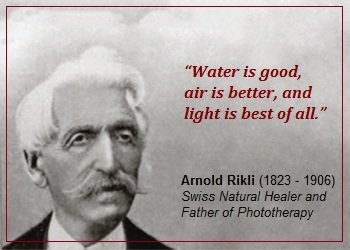 The Swiss natural healer, Arnold Rikli, who is regarded as the father of modern-day phototherapy, said, "Water is good, air is better, and light is best of all." This statement became the guiding principle of phototherapy. Phototherapy started finding applications for the treatment of diseases such as lupus, tuberculosis, and rickets – and it was also found to be useful in the treatment of infections.
At about the same time, the use of externally administered substances that could react with light started gaining in popularity. Most of these substances were highly colored and often used as dyes or stains. The reason why will become apparent shortly.
In 1897, Oscar Raab from the Pharmacological Institute of the Ludwig Maximilian University of Munich discovered that an acridine dye was toxic to paramecia (a primitive, unicellular organism) – but only when exposed to sunlight. He hypothesized that the acridine structure could harvest light energy and convert it into a form of chemical energy that destroyed the microorganism.
Raab belonged to the Tappeiner group of researchers. Over the next few years these researchers began to use a variety of dyes in disease conditions such as tumors, lupus (skin), and condylomata while exposing the diseased areas to prolonged sunlight or arc-lamp light. (Condylomata is a skin condition characterized by wart-like lesions on the genitals, typically a symptom of syphilis.)
Using this method on facial cell basal carcinoma, the Tappeiner researchers observed total tumor resolution and a 12-month relapse-free period in two-thirds of their patients. They also discovered that "reactive oxygen species" (ROS) were somehow involved in the process of cellular breakdown.
We could continue discussing the fascinating history of this therapy. For those interested in the more detailed story, we recommend you read Photodynamic Therapy: From Theory to Application (Abdel-Kader, 2014) from where most of this historical information is cited.
Let it suffice to say for now that, despite its early promise, PDT never accomplished its full potential in conventional oncological practice. PDT (but not SDT) is FDA-approved in the United States for the treatment of certain cancers and scientists continue to study different types of photo- and sonosensitizers to this day. But it is in the hands of alternative cancer physicians that PDT and SDT have truly flourished as anti-cancer treatment methods of consequence.
In 2006, Hope4Cancer Institute embraced SPDT as a treatment opportunity for patients. Over the years we have witnessed many successes – and today, Hope4Cancer Institute is considered the leading global center to offer this therapeutic protocol. This article will describe some of the key features of SPDT as well as our experience with this protocol over the past few years.
Why Photo- and Sonodynamic Therapy?
Even in the early years of development of Photodynamic Therapy (PDT), the potential of this approach was undeniable. That is why it's so surprising that it's only now that the conventional therapy establishment is taking note of its true potential. Here are some of the crucial advantages of PDT as an anti-cancer therapy:
The use of safe light (within the visible and near infrared wavelengths) and photosensitizers that do not confer acute or long-term toxicity – meaning that PDT can be repeated over and over again without causing harm, offering a rare option for the long-term, side effect free treatment of cancer.
The treatment can be adjusted based on the need. For example, localized tumors can be treated with a light source applied locally, while whole body light therapy can treat the entire body systemically.
Photosensitizers are selective. In other words, they absorb and stay absorbed in cancer cells, while they are removed from normal, healthy cells. As a result, activation of photosensitizers results only in the damage of cancer cells, leaving healthy cells intact.
Scientific literature and our clinical experience have shown that PDT (and SDT) elicits an antitumor immune response as a result of phototoxic damage to cancer cells. In addition to that, an anti-angiogenic effect has been described which disrupts blood supply to tumors, depriving cancer cells of vital nutrients.
Two major drawbacks of PDT quoted in literature are:
Lack of penetration of light sources into the body, making the method useful only for surface treatments.
Long-lasting skin sensitivity caused by retention of the photosensitizer in skin tissues.
At Hope4Cancer Institute, we have overcome these problems and enhanced the effectiveness of both PDT and Sono-Dynamic Therapy (SDT) as follows:
SDT is known to activate the same photosensitizers that light does, and has the advantage of being able to use the body's fluids to propagate sound energy throughout the entire body. As a result, SDT complements PDT extremely well, providing options for their individual or combined use depending on the diagnosis.

Our chosen sensitizer, SP Activate, is sublingually administered (under the tongue) and responds both to sound and light frequencies, but does not have the skin sensitivity side effects observed for its previous generation counterparts such as Photofrin or ALA.
We have evolved through a variety of light sources, and currently offer pulsed LED light therapy. LED lamps significantly improve penetration of light into the body, while having extremely low heat dispersal – which helps in avoiding overheating or potential burns.
We use SDT and PDT in combination with other proven oncolytic therapies such as Hyperthermia, Rigvir Virotherapy, and PNC-27, in addition to many holistic treatment methods that assist the body's terrain to rebalance to its natural, optimal state. These steps include detoxification, rebuilding the immune system, microbial elimination, oxygenation, nutrition, and restoration of spiritual and emotional integrity. These steps are outlined in our Seven Key Principles of Cancer Therapy.
Sensitizers and Mechanism of Action
Most sensitizer compounds have a core skeleton known as the porphin structure, which is the parent chemical structure for a number of biochemically significant compounds called porphyrins. The porphyrins (which contain the porphin core) have widespread biological functions in nature. We see these molecules everywhere – they are responsible for the green color in leaves and the red color in our blood.
These molecules show intense absorption of light in the visible spectrum, which explains why they are often highly colored and used as dyes. Their ability to collect and transfer energy using safe, easily available, visible light makes the generalized porphyrin structure as the ideal sensitizer candidate for SPDT.
In nature, small variations in the porphyrin's structure allow for a variety of functions. Porphyrins have two very important properties:
Their cage-like structure allows a metal atom to bind to the inner nitrogen atoms of the structure.
Their loose, dispersed electronic system allows them to absorb and release energy in the visible spectrum, which in turn can be used to transform oxygen to its excited singlet state.
At Hope4Cancer Institute, we use a chlorin-based sensitizer because of its ability to harvest light more efficiently. Chlorins absorb energy both in the red and blue ends of the visible spectrum, and form the structural core for nature's light harvesters, the chlorophylls. Found in cyanobacteria, green algae and plants, chlorophylls are natural green pigments that allow plants to absorb energy from light.
Our chlorin-based sensitizer's mechanism of action is probably identical to that of the chlorophylls by absorbing key light frequencies and converting them into chemical energy.
In order for SPDT to function properly, the following are some key requirements:
A Sensitizer Activated Both by Light and Sound – our sensitizer, SP Activate, picks up specific wavelengths of light and sound, exciting the electrons that are involved in the creation of reactive oxygen species (ROS), which selectively kill cancer cells.
A Sound and Light Source – the range of wavelengths of sound and light used are specific to the sensitizer. In other words, they need to be in the range where they can cause activation. While light, by nature, is not penetrative, sound can utilize the water in the body as a carrier to transmit its frequencies deep within. As a result, the combination of light and sound allows us to address tumors at various locations in the body, and not just the surface. Our portable, pulsed LED light source is both easy to use and many times more penetrative than a regular light source operating at the same wavelengths (blue, red, and infrared).
Molecular Oxygen – using methods such as ozone therapy, oxygen supplements, hyperbaric chambers, and direct administration of oxygen, we strive to improve the cellular concentrations of oxygen, a necessary component for the generation of reactive oxygen species (ROS).
How Does Sonodynamic Therapy (SDT) Work?
Our previous sections have focused mainly on PDT – let us briefly switch focus to understand how SDT works.
SDT uses ultrasound waves at frequencies higher than 20 kHz (above the range of human hearing). Sound waves get affected by objects and therefore scatter, reflect, and absorb – in fact these actions, collectively known as acoustic cavitations, can be observed to create three-dimensional images of different parts of the body.
By adjusting the frequency and intensity of the ultrasound waves, a variety of thermal and non-thermal effects can be observed. In fact, some treatments use highly focused, high-intensity ultrasound waves by themselves to cause tissue damage trained on cancer cell populations.
The energy effects from exposure to ultrasound can also activate porphyrins and stimulate them to produce ROS. The ultrasound intensity required for this process is relatively low, and it appears as though the activation of the sensitizer here happens through a similar energy transference process as it does for PDT. However, the exact mechanism of the process remains to be understood.
Hypervascularity: Restricting Blood Flow to Tumors
One of the telling, almost immediate effects of SPDT relate to its ability to restrict blood flow in tumors. At Hope4Cancer Institute, our standard monitoring procedures involve conducting a before and after study using High Resolution Power Color Doppler imaging. This method allows us not only to compare changes to the tumor size and shape, but also to the intrinsic blood flow (or hypervascularity) that characterizes the tumor.
Why is hypervascularity important? Tumors need a blood flow supply to ensure the growing demands for their nutrition. Can hypervascularity be used as a measuring tool for changes in tumor viability? A literature survey shows that this may indeed be the case.
Many growing tumors are characterized by higher blood flow. In a study of 16 breast cancer patients with liver metastases followed by MRI-measured blood flow, the hypervascularity of liver metastases was shown to independently predict disease progression.
In an evaluation of papillary thyroid carcinomas, intrinsic hypervascularity was a common feature in 69 percent of the cases, while hypovascularity (reduced blood flow) was a relatively uncommon phenomenon.
In fact, stopping blood flow in selected hypervascular blood vessels is a surgical approach that was successfully used for the treatment of metastatic thyroid cancer.
In our clinical observations over the years, a moderate to drastic reduction in tumor hypervascularity usually accompanies treatment with SPDT within the first three weeks of treatment, especially when combined with hyperthermia. This effect is maintained for most patients who continue their therapy at home.
SPDT Success Stories
More often than not, data cannot do justice to the value observed from actual success. We have been fortunate in having many patients over the years who, by all definitions, are cancer-free. In fact, some of our patients were featured in The Truth About Cancer: A Global Quest docu-series.
All the following patients had SPDT as part of their protocol in addition to several other treatments described by the Seven Key Principles of Cancer Therapy.

Trina Hammack. Trina arrived at Hope4Cancer Institute in 2008 with a diagnosis of stage 4 ovarian cancer. Following surgical removal of a large, melon-sized tumor, Trina opted to start treatments at Hope4Cancer Institute.
Her main treatment was SPDT, which has kept her asymptomatic and recurrence-free ever since.

Michael Stephenson. Michael Stephenson was diagnosed with aggressive prostate cancer in 2011. After intense research, Michael decided to take the trip to Hope4Cancer Institute, where his main treatment was SPDT.
Today, he is asymptomatic and cancer free. His passion and gratitude for the clinic and its doctors is apparent every time you hear him speak.

Charles Daniel. After several complications with surgery and other conventional procedures, what was promised to be a routine procedure became a death sentence from bladder cancer back in 2008. Given less than a year to live, Charles Daniel started SPDT at Hope4Cancer Institute.
Charles has enjoyed his cancer-free life with his family and year after year, Charles has sent back clear PETSCANS.

Rivi Litvin. In late 2012, Rivi Litvin underwent the Whipple surgical procedure to remove an aggressively growing bile duct/pancreatic tumor – but within 4 months, the cancer came back, metastasized to the liver. Rivi refused chemo, and decided to come to Hope4Cancer Institute.
In 2013, an MRI report from Cedars-Sinai showed "no evidence of cancer of any kind". Since then, Rivi has lived her life cancer-free.

Dr. Carl Gugino. A reputed orthodontist and trainer, Carl approached Hope4Cancer Institute in 2011 with a case of invasive bladder cancer. Knowing the truth of conventional cancer therapies, Carl opted for alternative treatment. Carl stayed very disciplined with his treatment protocols and has been cancer free since 2012/3.
Despite being in his mid-80s at the time of this writing, Carl lives a robust, active life.
Conclusions
At Hope4Cancer Institute, we pride ourselves in our ability to help our patients achieve survival rates that surpass that observed from conventional therapies. This becomes even more meaningful when we consider that a very large proportion of our patients (approximately 70-80 percent) on admission are Stage 4 patients, the vast majority of whom have already been through surgery, toxic chemotherapy, and/or damaging radiation treatment.
While survival is important, improvement in the quality of life is of great significance to ensure that the patients are able to rebuild their physical, mental, emotional, and social health. Most patients report an eroding quality of life under the influence of conventional therapies. Our goal is to give patients the option of not just getting better, but also feeling better along the way.
SPDT remains a gravely underutilized, yet highly effective cancer therapy. This is one of the few cancer therapies available today that is amenable to long-term use without causing any side effects or deterioration in quality of life. In order for clinical studies using SPDT to be effective, our experience shows that it must be administered alongside synergistic, whole-body treatments that restore the body's natural ability to heal and protect itself.
SPDT has stood the test of time and has been one of our spearhead treatments for many years now. Today, we are using SPDT in conjunction with other non-toxic, oncolytic treatments such as PNC-27 and Rigvir Virotherapy, as we continue seeking to improve our overall protocols.
To learn more about cancer treatment and prevention from some of the world's leading experts, check out our groundbreaking docu-series The Truth About Cancer: A Global Quest.
Article Summary
Sono-Photo Dynamic Therapy (SPDT) is a safe, effective, and proven therapy for treating cancer using sound and light.

In ancient Greek, Egyptian, and Indian civilizations, sunshine was considered a curative approach for many diseases.

Hope4Cancer Institute uses a chlorin-based sensitizer because of its ability to harvest light more efficiently.

By adjusting the frequency and intensity of the ultrasound waves, a variety of thermal and nonthermal effects can be observed.

One of the telling, almost immediate effects of SPDT relate to its ability to restrict blood flow in tumors.

While survival is important, improvement in the quality of life is of great significance to ensure that the patients are able to rebuild their physical, mental, emotional, and social health.

SPDT remains a gravely underutilized, yet highly effective cancer therapy.